Prairie Wildlife is a premier conservation-driven sporting estate offering hunts, clay shoots, corporate outings and more. Located in West Point, Mississippi – the heart of the Black Prairie – Prairie Wildlife has been awarded the prestigious Orvis Wingshooting Lodge endorsement. The qualifications for endorsement are rigid with every facet of the Prairie Wildlife experience scrutinized by the Orvis staff.
One of Prairie Wildlife's strengths has been in returning bobwhite quail to their native habitat. In addition to quail, guests may enjoy hunting dove, pheasant, white-tailed deer, rabbit and more. A stay at our lodge with its exceptional cuisine completes a visit to Prairie Wildlife and will be remembered for years to come.
The goal of Prairie Wildlife is to be the premier wing shooting destination in the South. This will be achieved by taking care of our guests and by providing unmatched shooting opportunities along with excellent food and first-rate accommodations.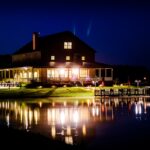 FEATURED SERVICES