Hunt Mill Hollow Ranch is a 4300 acre private, high fence wilderness in the beautiful hardwood and pine-covered Ozark Mountains of Eastern Oklahoma. It is laced with a network of trails, food plots, beautiful streams, and ponds, and has been intensively managed for trophy whitetail deer, elk, buffalo, and axis deer. Each year we harvest trophy whitetail deer that exceed 200" and trophy elk that top 400".
Our ranch environment is ideal for harvesting a Trophy Whitetail Deer or Elk. The factors that make our ranch so ideal for trophy deer elk hunting is the combination of great genetics and rich nutrient food plots that play a huge role in creating a sanctuary for reclusive monster whitetail bucks and massive bull elk.
The owner and guides of Hunt Mill Hollow Ranch have a passion for high standards and will always provide you with excellent service and hospitality. We will cater to your every need, from our comfortable five-star accommodations to the dressing and skinning of your trophy elk or whitetail deer. The luxury lodge has a full-sized walk-in cooler to get that trophy cooled down quickly to make sure that those tenderloins taste their best on your grill back home! Our hunters aren't just customers, they are a relationship that we want to grow for years to come! We strive to provide a unique and memorable experience that you'll cherish for a lifetime.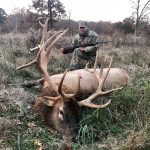 FEATURED SERVICES